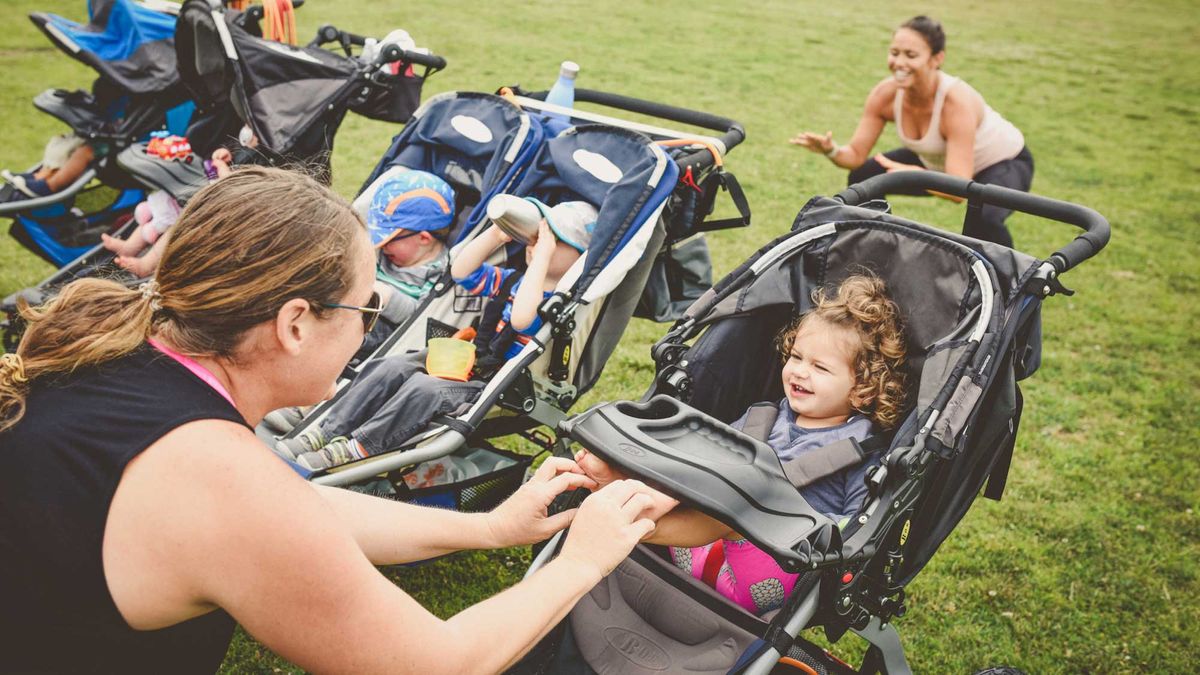 Las Vegas Review Journal: These moms want even more workouts with their kids
Rounding a corner at Town Square, a group of moms pushing strollers begins to pick up speed.
They are all part of the Friday morning Stroller Strides class put on by Fit4Mom Las Vegas, a workout program that enables mothers to interact with their children while getting fit. The class features cardiovascular and strength-training workouts that women can take at their own pace.
In a group of about 15 women on this particular morning, many have different reasons for why they joined.
"Some moms want to get back in shape, while some moms just need the mental break," says Jessica Peralta, owner of Fit4Mom Las Vegas. "Some moms do it for the social aspect."
But as the morning heat begins to rise and they begin to drip sweat, all the mothers are determined to finish another workout.
Fit4Mom Las Vegas began three years ago after Peralta gave birth to her first daughter.
At the time, Peralta didn't know she was going to start a business
"I was a registered nurse who was looking to get back in shape," she says. "But I was realizing I couldn't do some of the things I used to be able to do."
She started looking around for alternatives when she stumbled across Fit4Mom. She decided to bring a franchise to Las Vegas.
"I was a nurse and had no business background," she says. "But I was passionate about my newfound career of motherhood."
Peralta got certified as an instructor and began spreading the word about the program. Town Square was the first location. Word of mouth brought in her first few clients.
"Other moms were looking for a safe place to come," she says.
There are more than 200 members who attend classes in the Las Vegas Valley at about eight locations such as The District at Green Valley Ranch, Town Square, Downtown Summerlin and Tivoli Village.
Besides the workouts, there is an online private forum for mothers to talk.
"We are a community," Peralta says. "Some of them use the forum to arrange play dates or ask other moms questions. It's nice to have other moms as resources."
Fit4Mom classes includes Stroller Strides; Stroller Barre, stroller-based exercises that incorporate Pilates, yoga and barre; Fit4Baby, which women can take during pregnancy; and Body Back, specifically designed for mothers who want to lose the baby weight through high-intensity cardio.
Peralta teaches other classes besides Stroller Strides. She has added other instructors to expand the class schedule.
The mothers — some with single strollers, some with double — begin to gather in the open green space at Town Square, setting up and chatting before another class.
Peralta parks her double stroller at the front of the class, plugs in her speaker and begins the music.
Class has begun.
During a series of stretches and warm-up exercises, Peralta takes a moment to let each woman in the group say her name and talk about her weekend plans.
After a few minutes, they begin their workout.
Armed with resistance bands and yoga mats, class participants take up spots in the shopping plaza to perform sit-ups, squats, lunges, planks and other tasks.
Between exercise series, they walk briskly or run.
Though most of the exercise is done to popular dance music, Peralta also incorporates children's songs such as "ABCs" or "The Ants Go Marching." Each song comes with exercises.
"It's time to sing our ABCs," Peralta says.
The women face their strollers and prepare for the squat.
Clap. Clap.
"A," they shout before jumping into a squat followed by two more claps. "B."
They continue the workout until they make their way through all 26 letters.
"Let's sing it loud," Peralta says. "This is a judgment-free zone."
Among the mothers is Heather Neve, who has been coming to the program for about a year.
"It's twofold, coming to this," she says. "I get the physical benefits, but also I get to socialize with other mothers."
Neve heard about the program through another friend who joined.
"It's nice being with other moms who are going through the same things you are," Neve says.
Although many moms tout the social and physical benefits, Crystal Banda says the program helped her work through postpartum depression.
"I was so overwhelmed by having two children so close in age," she says. "I was dealing with a lot of stress and anxiety."
But when she signed up for Fit4Mom and started working out, she found the program comforting.
"I wasn't a bad mom because I was feeling these things," she says. "It was nice to have that reassurance."
As it boosted her self-esteem, Stroller Strides helped her shed pounds — 102, to be precise.
She has been going to the program two years in July.
"I come about five times a week," she says. "If I miss, my family knows it."
It has also inspired her family to get healthier, too.
Banda has even become a certified instructor with Fit4Mom.
After an hour, the moms finish with a series of sit-ups. They unbuckle their children, many of whom are toddlers, and begin to socialize while the kids run around.
"The workout is never over," Banda says after chasing her son.
Contact reporter Michael Lyle at mlyle@reviewjournal.com or 702-387-5201. Follow @mjlyle on Twitter.