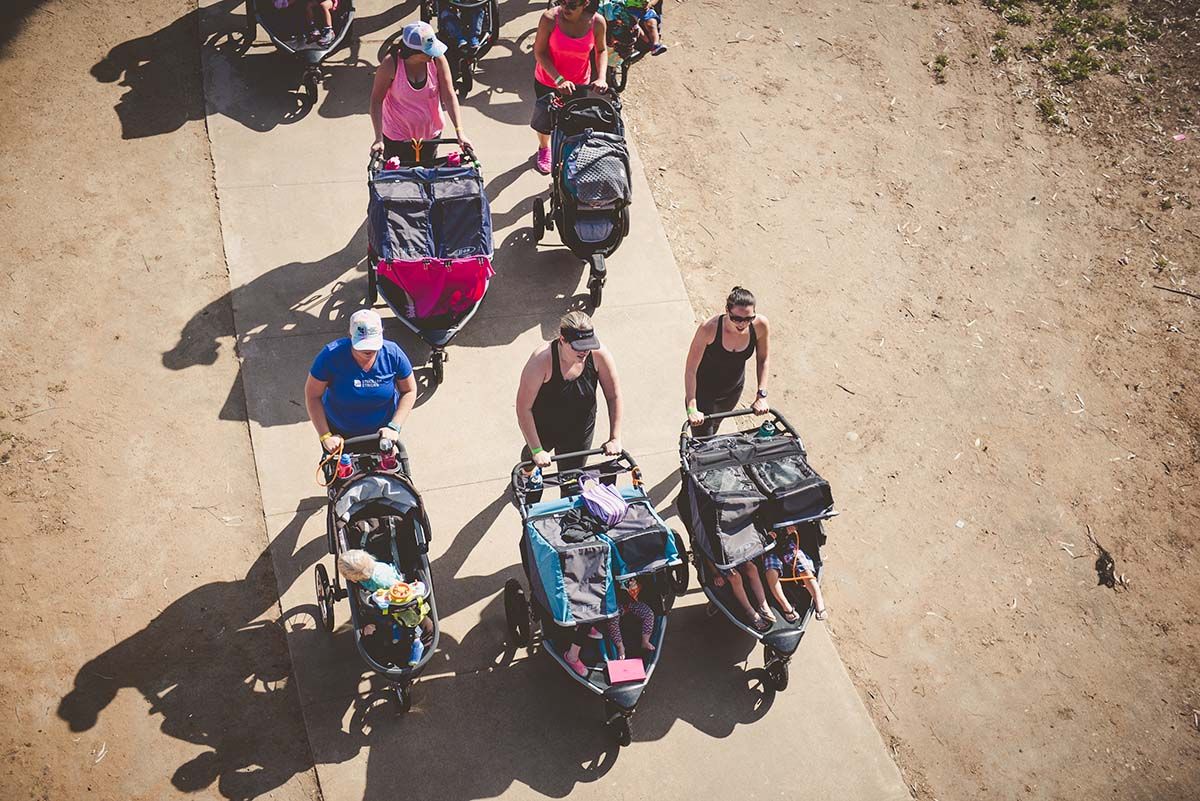 Las Vegas Sun: New moms hit their stride at exercise class
It was difficult to tell what captured the babies and toddlers' attention the most: the animated storytelling or their Spandex-clad moms bouncing up and down performing high-knee jumps.
"I thought I could, I thought I could," instructor Candace Wong chimed as she read a version of "The Little Engine That Could." It seemed to speak as much to the sweaty mothers as to their children.
The moms panted and shouted, "Toot toot," at appropriate intervals in the story, making sure to smile at their children sitting in strollers.
This was the second of five stations the mothers would tackle during Stroller Strides, a fitness program catered to mothers of young children. The hourlong class, offered through Fit4Mom Las Vegas, lets mothers work out alongside their little ones in an environment that boasts both "mommy music" and kid sing-alongs.
Dads aren't excluded from Stroller Strides. The last class of each month is a "family day workout," meaning fathers and other family members can join.
On a recent Friday morning at Town Square, the children ranged in age from 11 weeks to 3 years.
"Everything we do this morning, we want to do it with purpose and intention," Jessica Peralta, owner of Fit4Mom Las Vegas, told the group. "No matter what kind of night you had last night, today is a new day."
And so they began, stretching their muscles and introducing themselves and their children to the rest of the group. For many, the morning workouts double as playgroup time for their children.
Crystal Banda — mother to Jocelyn, 3, and Dominic, 1 1/2 — joined more than a year ago when she was battling post-partum depression. Since then, she has shed more than 100 pounds and now works as an instructor.
Banda said the workouts, which she tries to attend six days a week, balance her day, especially when her children decide to wake up at 5 a.m.
"I'm a little calmer," she said. "I'm a little bit more prepared for the day versus, 'Oh my gosh, you kids are driving me crazy.' "
Peralta, a former nurse who started the Las Vegas franchise after the birth of her second daughter, said the full-body workouts are meant to be as social as they are rigorous. That's why the group prides itself on being welcoming and nonjudgmental about everything from parenting to fitness level, she said.
"The reason it works so well is we're all new moms and we're all just trying to figure this thing out," said Peralta, now the mother of three daughters, ages 1 to 4.
For new mothers skeptical about their child's willingness to sit in a stroller for an hour, Peralta said not to worry. Instructors arrive armed with a "magic bag" full of props such as puppets and bubble makers to engage the children as their mothers squat, lunge and jog to each workout station.
Toward the end of a recent session, Banda smiled wide at her daughter, who wiggled her feet to the music.
"Ready, Jocelyn?" Banda asked. "Are you going to sing?"
Jocelyn shook her head no, but seconds later, she and her baby brother were giggling as the moms belted out lyrics to "Ring Around the Rosie" and did side lunges in a circle around the strollers.
"We'll adapt the workouts based on how the kids are doing," Peralta said. "Our instructors are experts at adaptation. It is rare when we have a baby who has to get out of the stroller."
When playtime begins at the end of class, some children emulate their mothers' moves, fulfilling another class goal — promoting a healthy lifestyle. Peralta's daughters already have mastered squats.
"They see it as fun," she said.