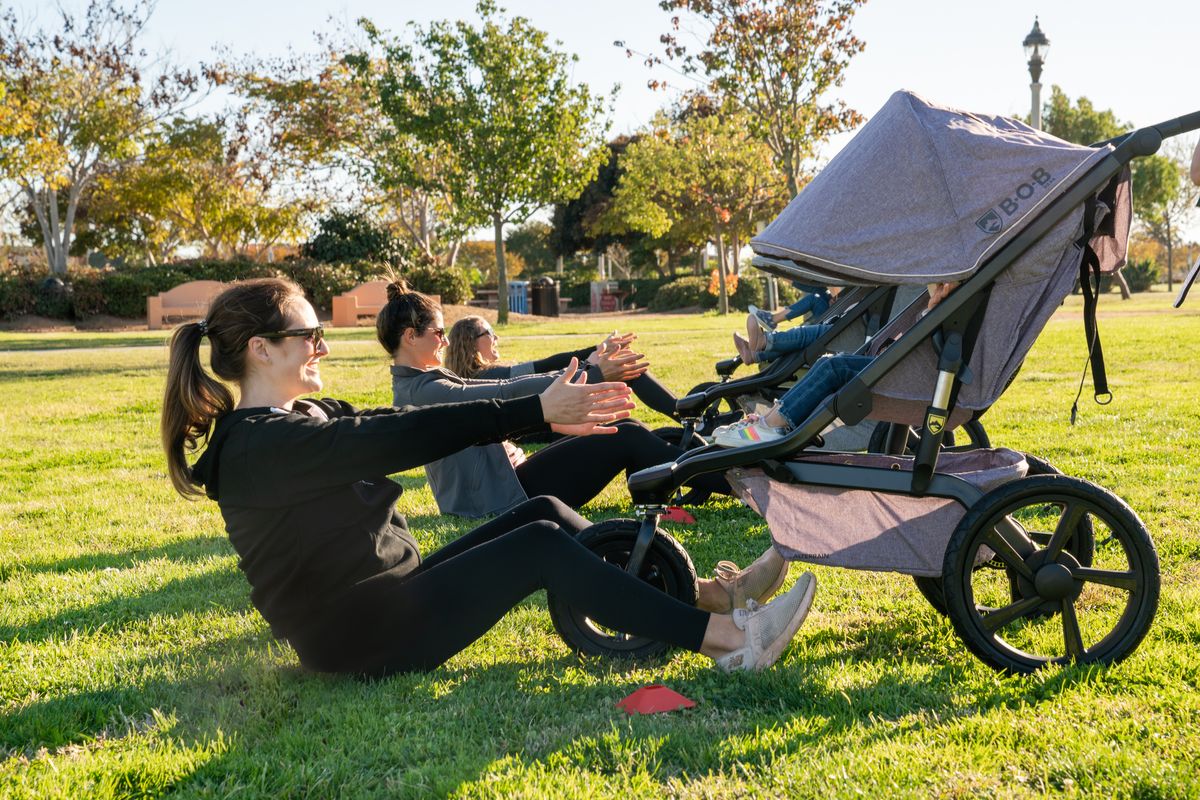 Vegas Inc Magazine: Las Vegas sisterhood of mothers gets together to get fit
Name of business: Fit4Mom Las Vegas
Address: 6605 Las Vegas Blvd., Las Vegas, NV 89119
Phone: 882-1795
Email: lasvegas@fit4mom.com
Website: lasvegas.fit4mom.com
Owned by: Jessica Peralta
In business since: July 2012
Describe your business.
Fit4Mom is the nation's premier fitness program offering classes for every stage of motherhood. We take pride in being the nation's most recognized program of its kind that helps give mothers the "Strength for Motherhood."
What kind of exercises do clients do?
We make use of our environment and find creative ways to incorporate strollers, park benches, curbing, stairs, railings and more to strengthen and tone muscles.
We also use resistance bands for added intensity during most of our exercises, and for our moms looking for that extra challenge, we integrate plyometric modifications as well. All of our classes have interspersed cardiovascular training drills in between all of our strengthening and toning stations.
How do the babies react?
There is nothing more gratifying than to see the smiles on our babies' faces as we are working out. During our Stroller Strides classes, we make it a point to create an environment that provides fitness for mom and fun for baby. We accomplish this by creatively incorporating our little ones into our workouts with songs and interactive activities while moms are engaged in their exercises. It's not unusual to see our instructors leading a workout with a goodie bag filled with bubbles, puppets, books and instruments to help keep our little observers entertained throughout the entire 60 minutes.
What's next for your business?
In just over a year, we have successfully launched our Stroller Strides, Fit4Baby and Body Back fitness programs and have had more than 300 moms and 350 babies (who are clients as well) come through.
We look forward to expanding our reach by offering programs in a wider radius so that all moms will have accessibility to Fit4Mom regardless of their location. We also have plans to further develop our running teams and our community outreach projects with our Moms on a Mission program.
In 2014, we are also looking forward to bringing additional Fit4Mom programs, such as Stroller Barre and our Lean Mommy nutrition program.
What advice do you give first-time clients?
I like to stress the fact that we are so much more than just fitness. They say it takes a village to raise a child, and at Fit4Mom Las Vegas, we strive to create that village for all our moms. The end result is a beautiful sisterhood in motherhood that has helped create friendships, not just among our moms but their entire families.
Joining a new fitness program can be daunting, and being a new mother can be downright scary. We like to create a safe place to land for women who want to lead healthier lifestyles for themselves and their loved ones. All of our fitness classes enforce a strict no-judgment policy. It's not about being better than anyone else, it's about being a better you.
What makes your business unique?
I love that we incorporate a holistic approach to women's health and wellness. When attending a fitness class with us, it's more than sets and reps. It's about empowering moms to reach their ultimate potential.
More important, the national certifications our instructors receive make them experts in the pre- and postnatal fitness industry, providing them the opportunity to teach safe, yet effective exercises in a supportive environment to our niche market.
What is your business philosophy?
My business philosophy directly reflects our corporate mantra of helping moms make strides in fitness, motherhood and life. My hope is to instill a personal sense of value to each and every woman who joins our programs.
What's the most important part of your job?
To always maintain a personal relationship with all of our clients.
What is the hardest part about doing business in Las Vegas?
Many people often comment on how transient our city can be. And while I can honestly say we have had to say goodbye to many clients, we have also had the opportunity to serve the multitude of new residents moving into the valley who need to find that sense of community among like-minded women.
Another challenge is the stereotype that Las Vegas is not a family-friendly city. As a business, we like to point out the many family-friendly events and activities our city has to offer. We always look to support other local events and businesses.
What is the best part about doing business in Las Vegas?
I am so appreciative of the many great relationships we have established with our partner venues and businesses.
What obstacles has your business overcome?
Initially, my biggest obstacle was overcoming my own fears of whether or not I was capable of owning and operating a business. I can vividly remember talking to my husband one evening and asking him, "Am I ready to do this?"
I take pride in being a "mom-preneur." This was a title I never thought I would hold, as I was a registered critical care nurse for 10 years before starting my business.
My husband and I had always wanted a business of our own, and it wasn't until the birth of our first child in 2010 that I realized there were no fitness programs in Las Vegas that focused exclusively on pre- and postnatal women. After about a year of research, I hung up my stethoscope, and we made the decision to invest in a Fit4Mom franchise.
How can Nevada improve its business climate?
I admire Tony Hsieh and all that he is doing with the Downtown Project. Just like Zappos, where he is focused on culture, he's now creating a downtown atmosphere centered around business, technology, entrepreneurship and the arts.
I would love to see other areas of our city follow suit and support small business owners and entrepreneurs who are genuinely invested in cultivating this sense of community.
What have you learned from the recession?
How to innovate. I opened my business during a recession, opened my first location outdoors during the summer, and I did not have a business degree. I had no other choice but to be creative in my class formats and marketing strategies to build my brand.